Young Professional's Guide To: Gujarat, India—A State on the Move
Known for its diverse heritage and rich traditions, the Indian state of Gujarat is also a hub for modern development. It is the first state in India to set up its own gas transmission line and has the world's largest refinery.
Gujarat is a state on the western coast of India with a coastline of 1,600 km (990 miles) and population in excess of 60 million. It is the fifth largest Indian state by area and the ninth largest by population. It encompasses the entire Kathiawar Peninsula (Saurashtra) as well as the surrounding area on the mainland.
The capital of the state, Gandhinagar, is on the outskirts of the north-central city of Ahmedabad, which was the former capital, the largest city in the state, and one of the most important textile centers in India. It was in Ahmedabad that Mahatma Gandhi built his Sabarmati Ashram as a headquarters for his campaigns against the British rule in India.
Gujarat is known for its diverse heritage and rich traditions. It has a vibrant mix of traditions from Hinduism, Islam, Jainism, and Buddhism and a blend of different cultural practices in arts, beliefs, customs, institutions, inventions, language, technology, and values. The oldest and most popular tradition of Gujarat is the dance called "Garba." The dance is performed primarily during the Hindu festival of Navratri, which is celebrated in the September and October months and honors the divine feminine. In garba, dancers move in a circle, singing and clapping their hands.
One of India's most prosperous states, Gujarat maintains a variety of industries such as agriculture, pharmaceutical, automobile, industrial production, and oil and gas. The state with 5% of the national population contributes 7.3% to the national gross domestic product (GDP) and 5.6% of total foreign direct investment (FDI) inflow into the country.
Unfavorable climatic conditions, salinity of soil and water, and rocky terrain have hampered Gujarat's agricultural activities, but the sector has remained a major component of the state's economy, employing about half the workforce. Wheat, millet, rice, and sorghum are the primary food crops, with rice production being concentrated in the wetter areas. Principal cash crops include cotton, oilseeds, peanuts, tobacco, and sugarcane. Commercial dairying is also significant.
Gujarat is rich in minerals, including limestone, manganese, gypsum, calcite, and bauxite. The state also has deposits of lignite, quartz sand, agate, and feldspar. The fine building stones of Porbandar on the Kathiawar Peninsula is one of Gujarat's most valuable products, and the state's output of soda ash and salt amounts to a significant portion of the national production. In addition, Gujarat produces oil and natural gas.
Business destinations in the state of Gujarat. Source.
The state draws its electricity from a variety of sources. The bulk of Gujarat's power is supplied by coal- and gas-fueled thermal plants, followed by hydroelectric generators. There are also numerous wind farms scattered across the state.
Oil and Gas Sector
The oil and gas industry in India dates to 1889 when the first oil deposits in the country were discovered near the town of Digboi in the state of Assam. The natural gas industry in India began in the 1960s with the discovery of gas fields in Assam and Gujarat. Gujarat houses about 20% of total estimated crude oil reserves of India and about 4% of total estimated natural gas reserves.
Explorations by Oil and Natural Gas Corp. (ONGC) have yielded valuable findings of oil-bearing rock strata over an area of about 15,360 km2 around the Gulf of Khambhat. The main oil belt extends from Surat to Amreli. Kachchh, Vadodara, Bharuch, Surat, Ahmedabad, Kheda, and Mehsana are some of the main producing districts.
During 2002-03, Gujarat produced more than 6 milliomn tons of crude oil which accounted for more than 18% of the total oil production in India. Ankleshwar, Lunej, Kalol, Nawgam, Kosamba, Kathana, Barkol, Mehsana, and Sanand are the important oil fields in this region.
Ankleshwar. The first major oil find came in 1958 with the discovery of the Ankleshwar field located about 80 km south of Vadodara and nearly 160 km south of Khambhat. Ankleshwar anticline is about 20 km long and 4 km wide. Oil is available at depths varying from 1000 m to 1200 m. It has a capacity of 2.8 million tons per annum.
It is such a prolific oilfield that the then prime minister of India Jawaharlal Nehru called it the fountain of prosperity. As many as 170 oil wells have been drilled so far. It is estimated that 2,500,000 million tons per year of oil can be obtained from this field. Oil from this field is sent to refineries at Trombay and Koyali.
Major Oil and Gas Fields in the Cambay Basin. Source.
Khambhat or Lunej field. The ONGC drilled test wells in 1958 at Lunej near Ahmadabad and confirmed the occurrence of a commercially exploitable oil field. Oil was obtained on 4 September 1959. Until 1969, a total of 62 wells were drilled out of which 19 yielded gas and 3 yielded oil. The annual production is 15 million tons of oil and 8–10 million m3 of gas. The total reserves are estimated at 30 million tons.
Ahmedabad and Kalol fields. They lie about 25 km northwest of Ahmedabad. This field and a part of Khambhat basin contain pools of heavy crude trapped in chunks of coal.
Major Oil and Gas Companies in Gujarat
ONGC and Gujarat State Petroleum Corp. are two main companies operating in Gujarat. Table below lists the leading industry players in the state.
Leading oil and gas industry players in Gujarat. Source.
Midstream
Gujarat is the only state in India with a statewide gas grid and multiple gas suppliers. The state has the potential to become a national hub for gas due to its proximity to the Middle East gas sources and attractive northern market. The state currently has 2 LNG terminals at Dahej and Hazira. The natural gas produced in the western offshore fields in India is partly brought to Hazira, where it is sweetened and partly utilized in Hazira itself, while the remaining is fed into the Hazira-Bijapur Jagdishpur pipeline, which passes through the states of Gujarat, Madhya Pradesh, Rajasthan, Uttar Pradesh, Delhi, and Haryana.
Gujarat is the first state to set up its own gas transmission line, resulting in the growth of gas-based industries in the state. With an extensive transmission network, almost 1200 km of gas grid is in operation and around 800 km is under planning or construction, and an expansion of around 200 km is being planned. GSPC currently transports more than 13 million metric std m3/D of gas to industries in various cities in Gujarat through its pipeline network, including around 6 million metric std m3/D of regassified LNG.
Downstream
Indian chemical industry ranks as the third largest in Asia and sixth in the world by output. Gujarat, the hub of chemical industry in India, accounts for 62% of India's petrochemical production, 35% of other chemicals production, and 18% of India's chemical exports. The government of Gujarat has recently set up a Petroleum, Chemical & Petrochemical Investment Region (PCPIR) in Dahej. PCPIR is a specifically delineated investment region planned for the establishment of production facilities for petroleum, chemicals, and petrochemicals. It is spread over 453 km2 of brownfield area in the coastal belt of Gulf of Khambhat in Bharuch District. The proposed Special Economic Zone (SEZ) in PCPIR includes petrochemical and downstream petrochemical, synthetic organic chemicals, industrial gas production, and packaging industries; shipbuilding and fabricating units; and other small chemical industries.
Reliance Industries, with its refinery in Jamnagar, is one of the key players in Gujarat's petrochemical sector. The Jamnagar manufacturing division is the world's largest refining hub. The refining complex was built in record time at globally competitive capital costs and helped propel India from being a net importer of petroleum products to a net exporter.
With a crude-processing capacity of 1.24 million bbl per stream day (BPSD), the Jamnagar refinery is a trendsetter and has won several awards, including the prestigious International Refiner of The Year award. It houses some of the world's largest refining units, such as the fluidized catalytic cracker, coker, alkylation, paraxylene, polypropylene, refinery off gas cracker, and petcoke gasification plants.
Reliance Jamnagar Refinery. Source.
Fuels from Jamnagar refinery are exported to several countries across the world. This complex refinery is future ready and can produce gasoline and diesel of any grade. Reliance also has another refinery, the sixth largest in the world, in the SEZ at Jamnagar. This has a capacity for processing 580,000 B/D of crude.
Tourism
Gujarat is one of the most diverse states in India. Its history stretches over years from the age old Harappan civilization (2500–1700 BCE) to the Mughal period (1526–1857). Gujarat draws its name from the Gurjara (supposedly a subtribe of the Huns), who ruled the area during the 8th and 9th centuries. The state assumed its present form in 1960, when the former Bombay state was divided between Maharashtra and Gujarat based on language.
Some of the must-visit places in the state:
Gir National Park. One of the largest domains of the ferocious Asiatic animals, Gir National Park is a sparkling diamond in the jewels of Gujarat. Along with lions, this dry deciduous forest is home to more than 300 avian species like great horned owl, crested serpent eagle, and other members of the cat family like leopards.
White Desert: Great Rann of Kutch. Great Rann of Kutch is reputed to be the world's largest white salt desert. Spanning over an area of 7505 km2 in the western fringes of Gujarat, the desert looks like a diamond under the scorching sun and appears eerie under the bluish glow during the night hours.
Sabarmati Ashram. Originally called Satyagraha Ashram, Sabarmati is Mahatma Gandhi's second ashram (first being the Kochrab Ashram) where he planned a significant number of freedom movements between 1917 and 1930.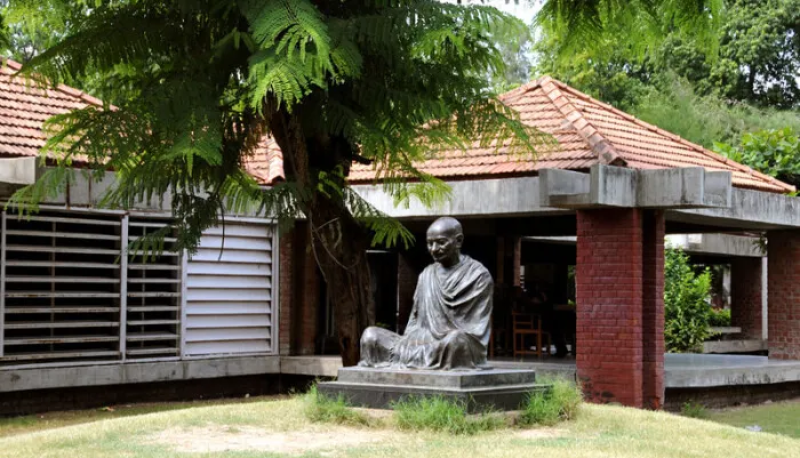 Sabarmati Ashram is a site of great historical significance in the Indian independence movement. Source.
Sun Temple, Modhera. Built in 1027 AD, Sun temple is one of the surviving Indian shrines dedicated to the Sun God and stands as an epitome of the exquisite Hindu temples of Solanki dynasty. The temple is divided into three parts, which are perfectly aligned from east to west, in accordance with the daily passage of the sun.
The 10th century Sun temple is a protected monument maintained by
the Archealogical Survey of India. Source.
Statue of Unity. The Statue of Unity is a colossal statue of Indian statesman and independence activist Sardar Vallabhbhai Patel (1875–1950), who was the first deputy prime minister and home minister of independent India and a chief adherent of Gandhi during the nonviolent Indian independence movement. The statue is the world's tallest with a height of 182 m and represents India's rich cultural heritage of "Unity in Diversity."
The Statue of Unity. Source.
Gujarat Fun Facts
The world's largest shipbreaking yard is in Gujarat, near Bhavnagar at Alang.

India's only liquid chemical port terminal is at Dahej, developed by Gujarat Chemical Port Terminal Co. Gujarat has two of the three LNG terminals in the country at Dahej and Hazira, and two more LNG terminals are proposed, at Pipavav and Mundra.

The world's largest grassroots refinery at a single location is at the city of Jamnagar, Gujarat.

Gujarat was the home of Mahatma Gandhi, a worldwide figure for peaceful struggle against tyranny, and Vallabhbhai Patel, a founding father of the Republic of India.

The state ranks first in the production of crude oil (onshore 55.19%) and natural gas (onshore 32.3%) in India.

36.6% of India's installed refining capacity is in the state of Gujarat, which is the highest in India.

The Indian Institute of Management, Ahmedabad was ranked 19th in 2018 by the Financial Times for its master's degree in management. It is consistently rated as a top business school in India by reputed national agencies.
References
Chemical and Petrochemical Sector in Gujarat. (n.d.). Retrieved November 24, 2019, from http://vibrantgujarat.com/writereaddata/images/pdf/chemical-and-petrochemical-sector.pdf
Energy Statistics 2019 (Twenty-sixth issue) Central Statistics Office Ministry Of Statistics And Programme Implementation Government Of India New Delhi.
Gujarat contributes 7.3% to the national GDP. (n.d.). Retrieved November 24, 2019, from https://www.wionews.com/photos/gujarats-contribution-to-india-600#gujarat-contributes-73-per-cent-to-the-national-gdp-60942
Gujarat Culture, Tradition. Retrieved November 24, 2019, from https://www.indianmirror.com/culture/states-culture/gujarat.html
Gujarat. History, Map, Population, & Facts. Britannica. Retrieved November 24, 2019, from https://www.britannica.com/place/Gujarat
Gujarat State Portal. All About Gujarat. Gujarat Fact File. Retrieved November 24, 2019, from https://gujaratindia.gov.in/about-gujarat/fact-file.htm
Ministry of Statistics and Program Implementation. 2019 Energy Statistics. (n.d.). Retrieved November 24, 2019, from http://www.mospi.gov.in/sites/default/files/publication_reports/Energy Statistics 2019-final.pdf
Oil and Gas in Gujarat (n.d.). Retrieved November 24, 2019, from http://globalgujarat.com/images/oil-gas-details.pdf
Oilfields: Major Oilfields found in India. (n.d.). Retrieved November 24, 2019, from http://www.yourarticlelibrary.com/india-2/oilfields-major-oilfields-found-in-india/19718
Petroleum Refining & Marketing - Jamnagar Refineries | Petroleum Production Industries in India. (n.d.). Retrieved November 24, 2019, from https://www.ril.com/OurBusinesses/PetroleumRefiningAndMarketing.aspx
State of States: Economic growth story of Gujarat—Nation News—Issue Date: Jan 16, 2017. (n.d.). Retrieved November 24, 2019, from https://www.indiatoday.in/magazine/nation/story/20170116-state-of-states-economic-growth-story-of-gujarat-985531-2017-01-04
Rankings. Indian Institute of Management Ahmedabad. Retrieved November 24, 2019, from https://www.iima.ac.in/web/about-iima/home/rankings
---
Vikrant Lakhanpal is a production engineer at Proline Energy Resources, based in Houston, Texas, where he focuses on production optimization and enhancement. He also leads the company's initiative of developing digitization workflows for small operators. Lakhanpal volunteers as an assistant director at Well Engineering Research Center for Intelligent Automation at University of Houston. Apart from conducting his research at the center, he guides younger engineers in their research and represents the center at various conferences and workshops. His research interests are data-driven modelling, automation, and analytics to make drilling and production more efficient. He holds two technology patents and is an active contributor to petroleum engineering literature on OnePetro. Lakhanpal has held various positions in SPE student chapters and the Gulf Coast Section. He holds a master's degree in petroleum engineering from University of Houston and a bachelor's degree in petroleum engineering from University of Petroleum and Energy Studies, India.