Ayman Asfari, Group Chief Executive, Petrofac Services Limited
Ayman Asfari talks about his career, his company, future technology, and sustainability.
My Motto in Life Is Perseverance—I Set a Plan and Just Go After It
What was your first job?
I had a scholarship to attend the University of Pennsylvania and worked during my studies, from assisting in the library to working as a security guard.
My first real professional job started at the beginning of 1980, when I joined a civil consultancy business as a resident field engineer in the Gulf, based in Dubai. After a couple of years, I moved to Muscat, Oman. I was working in civil engineering, responsible for the soil investigation for a major highway project in the field. A couple of years later, it was the start of the oil boom in Oman and I decided it was an exciting place to be, so I shifted to the oil and gas industry to start a construction business in Oman.
In the early 1980s, I started a civil construction business, building roads to drilling locations and building drilling pads and camps. We gradually migrated from that to building and installing flow lines and link pipelines and then to building plants.
That was the start.
What were your impressions of the industry when you started working?
There was a lot of activity in the Gulf area, with quite a few challenges to increasing production. There were some aggressive targets with a big capital spend to meet these challenges.
It was the new frontier, and I was a young guy at the time, 25 years old. It was the exciting thing to do. We would go to places nobody had been and build roads and drilling locations in the middle of nowhere. There also were financial rewards. You would go to these locations, accept the hardship and hope to make better returns than from sitting in a city office job.
There was some turbulence in the market in the mid-80s, but in countries like Oman, where oil and gas is the mainstay of the economy, the expenditure continued unabated.
How do you think this industry stacks up against others, and why should a young professional pursue it?
These are exciting times for young professionals because there are more challenges in this industry, definitely a lot more technical challenges. The industry offers an array of challenges we didn't have 20 or 25 years ago, such as drilling in deeper water, drilling deeper wells, and migrating to harsher climates. The role of technology is becoming more important.
Everyone will have to be doing more, technically and professionally, to achieve success, and I think that the industry today is more exciting than it used to be, as a result.
With my generation, and probably the generation before that, people saw the excitement in the challenge of going to difficult places. It used to be a great way of life because you earned better compensation than for a normal job. One challenge I see with today's young professionals is that, increasingly, they prefer an easier life of working in industries such as financial services, particularly the engineering talent.
In many ways, I find this industry more exciting, but people have to see that excitement and embrace it. Recent economic prosperity and competition with other industries have meant that it is difficult to attract the right talent.
What changes would you make to the way that our industry attracts talent?
It is important that we show young professionals that there is a long-term career if they join this industry. There is a perception that the oil and gas industry is a sunset industry, with declining production, and I think that perception should be dispelled.
This applies even to mature basins such as the North Sea and the US. Young people joining the industry in mature basins will still have careers in 30 or 40 years, as there will still be production in those regions, and it is likely that these places will become centers of excellence in the export of best practices. Mature basins will continue to export technology and expertise in 50, 60, or 70 years' time.
Also, our industry has to start paying more to attract engineering talent. We do not pay enough for the talent required in this industry, on a relative basis. People in the oil and gas industry are paid well but are lagging behind when compared with other careers and industries. A young professional graduate with a job offer in the oil and gas industry, as opposed to a typical offer in another industry, will likely have to consider the requirements for travel to difficult places.
This trend will occur over time and will fuel further wage inflation, but there is absolutely no doubt if you want to attract the best engineers, you will have to compete with other industries. Compensation and pay must continue to rise to a point where they become very attractive to talented people.
So it's two things—showing that you have long-term prospects and ensuring that compensation is competitive.
What are your most memorable experiences in your career?
I have so many memorable experiences, but the most memorable probably was when I put the business plan together for Petrofac International in 1990. Petrofac was a US business with about 200 employees, and I came in as a partner and senior shareholder to internationalize it through Petrofac International.
I remember our dream at that time was to break even in the first couple of years. We actually made money in the first year. We had to count pennies and worry about payroll, and about every invoice, and scratch our heads about where we were going to pay it from. Those were very memorable days!
The other memorable experiences are the events that validate the business. We had a very successful initial public offering in 2005, and that was basically a validation of the business. It's very memorable in that sense that there is an external audience that judges those who have built the business in Petrofac and finds that they have done a good job and as a company are worth something.
Who has helped you most in your career, and what lessons have you learned from your mentors?
I have to admit that everyone I have worked with has helped me in one way or another. In the last 20 years, I have been blessed with working with a very talented and varied group of professionals, and I have learned from every one of them. I recognize I have certain talents, but each member of the executive team of Petrofac has different talents and different areas of strength. I have looked to every one of them to see how they can help shape my decision making and help me with building the business.
If I had to single out one mentor, it would be a gentleman named Ralph Martin. He was chairman of Petrofac and the founder of the original business in the US. He retired from the business in 2003, but he is still around and I talk to him regularly.
He was a great supporter of the international business that I led in 1990. He had a vision that the business was increasingly going to move into the places outside the OECD countries. He supported the idea of the starting a local engineering office in the Gulf, which we started in 1991. We were the first to set up an engineering office in that region.
He has some very simple pieces of wisdom, such as, "If you come across a good man then hire him, and he will make you money, even if you don't have a job for him."
Ralph offered simple, very clear messages. "You can never do business with bad people," he said. He meant that no matter how much money you will make, if you are striking a deal with a bad party, you will never ultimately do good business. That kind of simple wisdom was very deep in some ways and very basic in others.
Our current issue of The Way Ahead is themed around sustainability and professional responsibility. What advice on these themes can you give to young professionals in their developing careers?
At the end of the day, any individual is working as part of an industry that should be seen as a force for good. We should dispel that old image of "those greedy old men are coming to extract resources from our country." We should always be seen as people who come in and improve the livelihood and well being of the local communities. Our industry has really embraced this motto; we have certainly embraced it in Petrofac.
Young professionals must be part of the positive force for good in any location to be successful, and they should understand the special needs and appreciate the culture of that location. They must try as much as possible to do their small part in adding value to the local communities.
Because of Petrofac's focus on training as a core part of its business, we train 35,000 to 40,000 delegates per year. We are a people business, and our sustainability initiatives focus on training local communities. We believe that if you leave people with the capability and the knowledge to pursue a career in the industry, then you are leaving behind people with a sustainable and long-term future. That is our focus. A lot of our talented and senior guys see that, later on, they can pass on the knowledge to people in these communities, where there are young educated people who lack training. It is very fulfilling and rewarding, and a critical part of knowledge transfer to the next generation.
What do you most enjoy about your job?
The one thing I enjoy the most is interacting with a very talented and highly professional group of people that I work with every day. I just enjoy coming to work and dealing with my colleagues, and I like the atmosphere at work. We have a big buzz in the business and a high energy level in the organization.
To put it all into context, I enjoy the fact that I am in the industry and that I am making a very small contribution to a global energy challenge. This is an immense challenge. What I do through Petrofac plays a very small part in addressing that challenge. Although there are much bigger companies that are doing more to address this challenge, it is extremely fulfilling to know that Petrofac is playing a small part to address such a critical issue.
With Petrofac's growing presence in the Middle East and Africa, how does the company's strategy embrace sustainability?
We have just announced that we have set up a new training center in Dubai to ensure that companies in the region have access to quality competency-based training.
We believe in local training and technology and knowledge transfer. The local content in our company is huge. We believe that companies that lead with local content are going to have a unique and differentiated advantage in the future.
You have a busy professional life, what is your ideal escape?
Quite simply, I enjoy spending a couple of days aboard my boat in the Mediterranean. It doesn't have a fax machine!
How does your company maintain a competitive position in today's market?
We have offices in lower cost but high-value locations. We have a very big engineering center in Sharjah in the Gulf, with more than 1,600 people. We also have two engineering centers in India, in Mumbai and Chennai. There are 700 to 800 professionals between the two locations in India. They both are still growing. By using different engineering centers, we try to maintain a global coverage, and we believe this makes us quite competitive.
What do you see are the main technology challenges for now and the next 10 years?
Finding ways to deal with carbon emissions and also balancing the need to produce more oil and gas in harmony with the various climate-change initiatives that are coming in.
CO2 storage and sequestration will open up a new frontier in unconventional oils.
It is very important that technology is developed to such a point that exploring unconventional oils is not done at the expense of the environment.
What benefit do you see from professional organizations, such as SPE?
Young professionals can get a huge amount of value from interacting and networking within industry professional societies. We actively encourage our personnel to be active in professional societies at all levels, and we have people actively engaging at an international level to maintain a wide and deep involvement in the global community.
What can you share about leadership in how a young professional can maintain a successful career?
My main lesson is that you should take your time to pick what you want to do in life.
Once you have decided what that is, then set your course and pursue your goal. You will ultimately get to your destination. My motto in life is perseverance. I set a plan and just go after it. I believe that if you are focused and maintain the course, you will get there. Of course, you will come across some difficulties and stumble sometimes but, ultimately, you will get there.
I find it extremely frustrating when very talented and bright people jump from one thing to another and end up nowhere.
My advice is that young people should take 3, 4, 5, 6, or even 7 years to decide what they are going to do with their lives, and then they should set a course and persevere until they get there. I am sure that whatever career they pursue in the oil and gas industry, they will find tremendous satisfaction.
---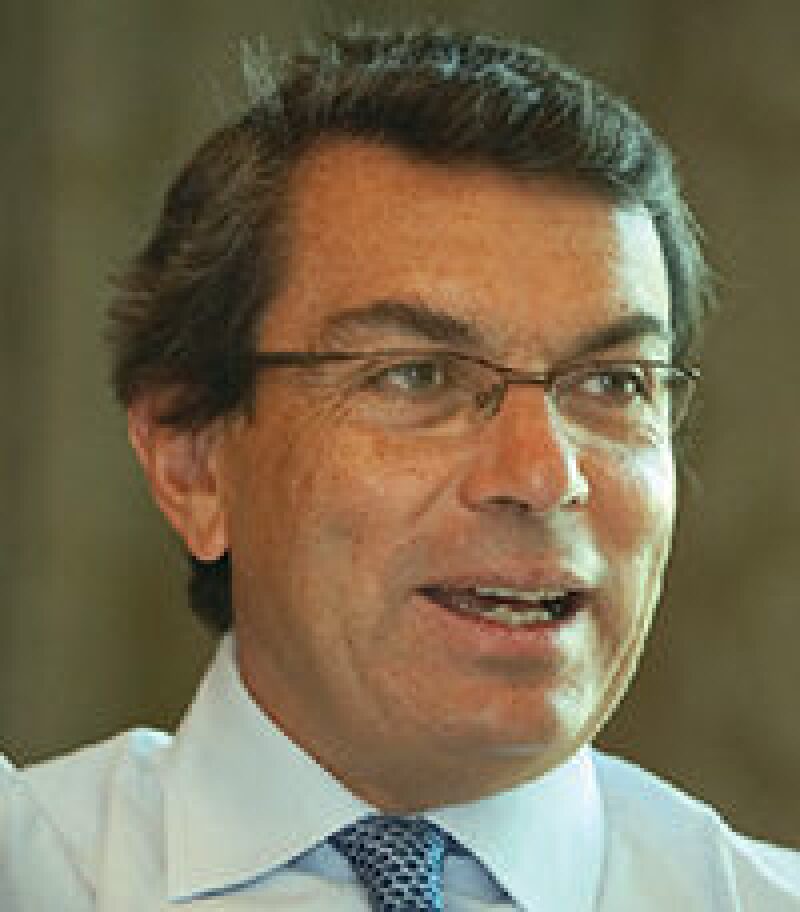 Ayman Asfari is Group Chief Executive of Petrofac Services Limited. He graduated from the University of Pennsylvania with a BS degree in Civil Engineering in 1978 and an MS degree in Civil and Urban Engineering in 1980. Petrofac designs, builds, commissions, and operates onshore and offshore surface facilities for oil and gas production, gas processing, and oil refining. Founded in Texas in 1981, Petrofac today operates globally with a worldwide workforce of 9,500 employees.
The Way Ahead Interview invites senior figures who shape our E&P industry to share their wisdom, experience, and deep knowledge with the young-professional community. Please join us for an inspiring conversation with Ayman Asfari, Group Chief Executive, Petrofac. This interview is an insight into perseverance and vision.
John Donachie, Editor, TWA Interview