Strengthening the Tools and Methods We Use To Disseminate Knowledge to Members
"To collect, exchange, and disseminate technical knowledge" are not only the first seven words of SPE's mission, but also what our society has excelled at over its storied history.
"To collect, exchange, and disseminate technical knowledge" are not only the first seven words of SPE's mission, but also what our society has excelled at over its storied history. Sharing industry knowledge has allowed members to advance their careers, inspired new technologies, and served as the key differentiator between SPE and other societies. SPE's technical content is available in many forms, such as manuscripts, journals, newsletters, and webinars. In my October JPT column, I stressed the importance of ensuring this content maintains the highest quality as we continue to transition into new methods of delivering information. Even the highest-quality content will gather dust if not being used by our members. As more young people join our industry, we must be mindful that the way they share and consume information is very different. In 2008, the largest segment of SPE membership was 50 to 54 years old. Ten years later, the demographics have shifted such that 30- to 34-year-olds comprise the largest segment of our membership. This shift has many implications for what SPE needs to do.
Through my travels to different sections and student chapters over the past few years, I have been asking three questions: How many regularly read JPT? How many read papers from OnePetro? How many have watched an SPE webinar?
It is usually our more senior members that raise their hands to these questions. The average age of our professional membership varies among regions, which means in some locations, I get half, or even far fewer, hands raised in response to my questions. While we still have many members that can remember a world before home computers, in many areas, more of our members have never experienced a world without computers. Many of the students entering university now have never known a world without smart handheld devices and Google. SPE must serve the needs and expectations of the full spectrum of our membership, respecting the differences in how they access and retain information.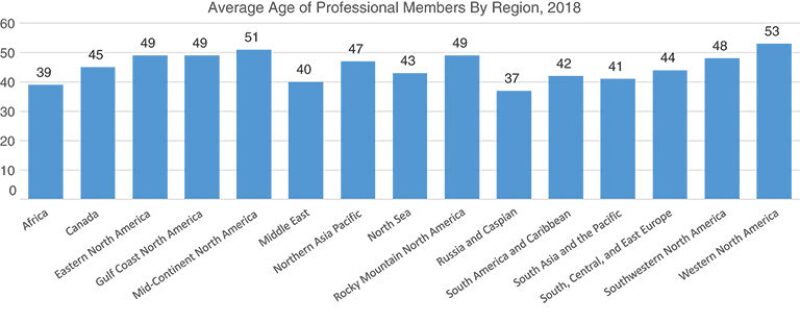 Our 2005 SPE President, Giovanni Paccaloni, was a champion for the millennial generation and led the creation of the Young Professionals Program as a way to attract and retain them. Similarly, in 2015, then-President Helge Haldorsen launched "SPE 2.0," a strategy to revise and modernize core programs to keep pace with the industry. This strategy also led to the creation of webinars and the greater accessibility of tools on the SPE website. As Gen Z joins our industry and the digital oil field becomes a reality, SPE must adapt how we collect and disseminate knowledge to reflect the needs and expectations of our changing industry. It is imperative that we demonstrate the value of SPE membership to post-graduation professionals.
In her scholarly article "The Challenge of Teaching Generation Z," Elizelle Juaneé Cilliers states that "Generation Z students will from now on fill our classrooms and expect a teaching environment in which they can interact in a similar way they do in their virtual worlds. This implies a demand for instant information, visual forms of learning, and replacing 'communication' with 'interaction.' " (https://dx.doi.org/10.20319/pijss.2017.31.188198). As a mother of two, I have seen this change occur with the education my own children are receiving. I have one daughter in her second year at university and a second daughter entering university next fall. Most of their textbooks are now available online, and their instructors record short videos covering daily lesson material for them to watch at home. Rather than listening to lectures and taking notes, classroom time is now used to discuss and reinforce materials covered in the videos and online textbooks. For self-learning, students typically turn to YouTube to watch a video or a podcast for the audio.
Podcasts have exploded in popularity over the past several years and it is easy to understand why. You can listen while you commute, find yourself with a few minutes while waiting, or in any other gap between activities. For instance, I enjoy listening to a variety of industry podcasts while walking my dogs. It helps keep me up to date by listening to interviews with subject-matter experts and executives from different parts of the world. Podcasts are a powerful storytelling medium, and scholarly research tells us that if you incorporate statistics and information into story­telling, the retention rate for that information increases substantially. SPE launched its first podcast during the 2019 ATCE in Calgary with an interview with George King. SPE will be offering various podcast topics, including my monthly SPE President series, during which I discuss my current column topic and provide more context than found in JPT (see www.spe.org/podcasts).
SPE will continue to provide content in both print and video, while exploring other formats to better meet the needs of our younger members. SPE is also excited to share technical content through the SPE International App to meet the needs of members who prefer to use mobile devices.
One of the findings from a large video engagement study recommended that online video training should be no longer than 6 minutes (http://dx.doi.org/10.1145/2556325.2566239: How Video Production Affects Student Engagement: An Empirical Study of MOOC Videos). Many companies, such as Shell, and associations, such as SEG, have begun implementing video training in the form of "nuggets," which are 5–8 minutes long and prepared in a way to be more engaging to the user.
SPE is evaluating how we disseminate our content to make it more visually engaging, bite-sized, and, of course, available through mobile devices. This evaluation includes reviewing the traditional way of publishing technical content through manuscripts. Many students and young professionals want to receive content at a high level first, such as a one-page summary with conclusions, and then can elect to access the full paper if they need the details. SPE may be able to use videos, podcasts, webinars, and other formats to accomplish this.
One of my five focus areas during my time as your President will be to strengthen the tools and methods we use to disseminate knowledge to members. My objectives in this area are to create and elevate SPE initiatives to provide quality content in a variety of formats, such as print, video, and audio, so it is more engaging and consumable for all our members. I will also ensure that we will deliver on SPE's Strategic Plan goals of having technical dissemination and exchange methods for easy access and delivery of content and tools through mobile devices.
Our society is membership-driven, and our programs are designed to serve the needs of our diverse and talented membership. To ensure that our society remains relevant for years to come, we need to anticipate the needs of our future members so they are prepared to drive the next wave of innovations and technological advancements for our industry.