Drilling/completion fluids
Advances during the past decade in using convolutional neural networks for visual recognition of discriminately different objects means that now object recognition can be achieved to a significant extent.
This paper reports the effect of sodium dodecyl sulfate modified graphene (SDS-Gr) on the rheological features, fluid loss, and swelling inhibition mechanism of clay.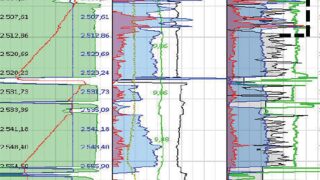 This paper describes a low-impact, nonaqueous drilling fluid (LIDF) designed to minimize equivalent circulating density (ECD) increases and associated risks in deep water by reducing the effect of cold temperature on fluid viscosity.
This paper discusses a new, comprehensive cuttings-transport model designed to enable safe and improved hole-cleaning operations.

There is a growing interest in using nanocomposites to improve drilling-fluid rheology. In recent years, an additive derived from a sequence of graphene-based materials has been reported. The progress of these graphene derivatives has been used as a paradigm for water-based drilling fluids.

While drilling in deepwater Gulf of Mexico, a topdrive failure forced the shutdown of all drilling operations for the rig operator and lasted for 114 hours.

This paper covers the 7-year history of drilling-fluids application in a reservoir drilling campaign offshore Abu Dhabi, from the early use of a solids-free, brine-/water-based mud to the recent application of nondamaging, nonaqueous fluids (NAFs) with micronized acid-soluble ilmenite.

This study focus on the design and evaluation of a customized water-based mud (NP-WBM) using silica oxide nanoparticles (SiO2-NPs) and graphene oxide nanoplatelets (GNPs).

Recent research has put extensive focus on the magic of graphene in drilling fluids. Graphene, because of its thermal, electrical, chemical, and mechanical properties, improves mudcake stability and minimizes fluid loss that eventually reduces formation damage.

Not all friction reducers are created equal. With dozens of varieties on the market, industry research suggests that oil and gas companies be choosy.

Since the 1980s, many technical works have focused on improving the ability to detect hydrocarbons inside the riser and safely remove them from the system. This trend gained extra momentum with the advent of systems such as riser-gas handlers and managed-pressure drilling.