Firm That Transforms Surface Properties With Lasers Wins Top Prize at ATCE Startup Village
FLITE Material Sciences says that its unique lasering process can be used on just about any type of material to make it either repel or attract water and oil. For an industry that deals with a lot of both, the technology has many potential use cases.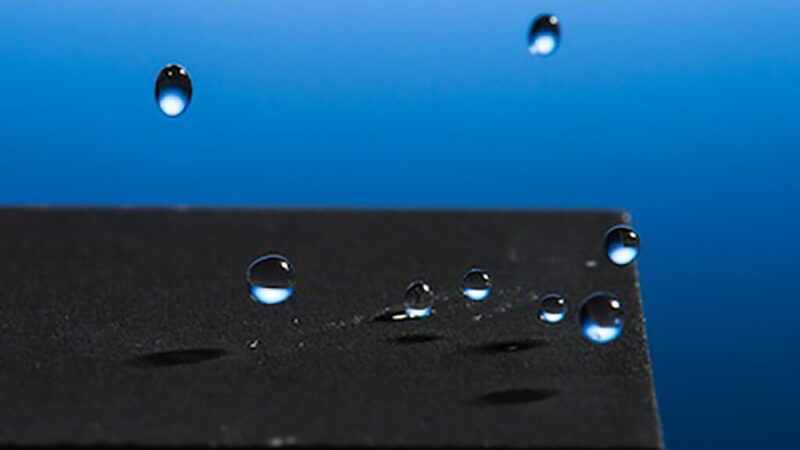 For the second year in a row, a Canadian startup has been given the top prize at the Annual Technology Conference and Exhibition (ATCE) Startup Village.
Montreal-based FLITE Material Sciences is the developer of a laser technology that can make just about any type of surface either attract or repel water and oil.
Earlier this week a panel of industry technologists and investors named the firm "Best in Show," which earned it $25,000 among other prizes. A total of 12 technology startups were selected to compete in the business competition that is now in its fourth year.
Many past innovations in surface modification have focused on making them smoother or rougher to either improve liquid flow or adhesion. Oftentimes this is done with chemical treatments.
Born from years of university research, FLITE's emerging technology instead relies on a special laser that creates custom-designed features and patterns without altering the bulk of the underlying material.
"While we are used to seeing lasers that cut or burn, this effect is different—it uses a lower-power, high-frequency laser pulse to reshape the surface," said Dan Cohen, the president of FLITE. "We can leave behind an ordered surface, not just rougher or smoother, but with specific capabilities in a fully green process."
He noted that in some cases the shapes are inspired by nature such as the lotus leaf that is essentially waterproof thanks to being covered with many thousands of tiny spikes that ensure the water never settles on the surface. Other textures, such as microscopic mushroom-shaped bumps, will make the surface of a material oleophobic.
"By copying these textures onto ordinary materials, like metal, glass or plastic, we give these materials properties of self-protection or self-cleaning without using any chemical coatings," added Cohen.
FLITE says it can do the reverse too and make materials cling to water and oil. As the young firm explores its roadmap, it sees opportunities to complement existing coating processes such as rust removal.
Cohen shared that the most common use case raised in his engagements with the oil and gas industry is corrosion. Companies spend billions of dollars each year to rectify corrosion on offshore platforms, pipelines, and processing facilities.
Other potential applications being discussed include oil and water separation or flow assurance in flowlines and pipelines, "which could reduce the use of chemicals and energy required to move the product around," said Cohen.
The Startup Village was launched at SPE 2017 ATCE to promote the exchange of ideas between early-stage technology companies and the oil and gas companies that can benefit from their advances. In addition to cash and other prizes, startups that participate benefit from engaging with venture capital investors and networking with other innovators and entrepreneurs.
Last year's winner of the ATCE Startup Village was Calgary-based Ingu Solutions, which uses sensor balls to record the conditions of flowlines and pipelines too narrow or fragile for traditional inspection technology to be used in.
For a full list of this year's winners visit the ATCE Startup Village website where you can also register for the full ATCE program running from 27 to 29 October.
The other award winners at this year's competition were:
Rising Star ($3,000): Nesh, (Houston)
Rising Star ($3,000): OriGen.AI, (New York, New York)
Rising Star ($3,000): Tri-D Dynamics, (San Francisco, California)
People's Choice ($500): ViiBE Communication, (Victor, New York)